For Basement Exterior Waterproofing, Foundation Repair Excavation and Drainage Systems, in Vienna, Fairfax and Arlington VA, Choose Exterior Waterproofing Experts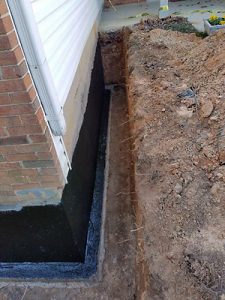 When it comes to waterproofing basements, foundation repair and exterior waterproofing systems, Exterior Waterproofing Experts in Northern Virginia has the right solutions. We have years of experience helping homeowners in Vienna, VA, Fairfax, VA and Arlington, VA eliminate the destructive damage caused by basement water infiltration and poor yard drainage.
If you see moisture in your basement or along a basement wall, or notice that your basement is wet or damp, you may be in need of a yard drainage strategy to redirect water and flooding away from your home. This is especially true in many areas of Northern Virginia, in particular Fairfax and Vienna VA, where the water table collects around basement foundation walls.
A musty smell in your basement is another sign of poor water drainage and indicates that water is pooling and leaking into your foundation walls. This can lead to rot and cause severe structural damage to your home. Water damage in a basement also leads to mold and mildew growth, which can cause health related issues and should be taken very seriously.
Exterior Waterproofing Experts in Virginia will assess the source of your basement issues and advise a waterproofing and drainage strategy. That may include excavation and applying waterproofing sealants, plastic liner systems, foundation repair, re-grading, and crawl space encapsulation to fix drainage issues that affect your basement and home.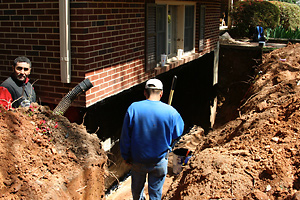 We employ the following processes in Virginia to waterproof your basement:
Exterior Waterproofing Sealants
Plastic Foundation Liners
Foundation Repair
Excavation, Drainage Systems
Crawl Space Encapsulation
Egress Windows with Drainage Tie-in to Foundation Drains
If you need help with basement waterproofing in Fairfax and Vienna, VA call Exterior Waterproofing Experts today.