For Yard Drainage Management and Erosion Control Solutions in Northern Virginia, Vienna and Fairfax, VA Contact Exterior Waterproofing Experts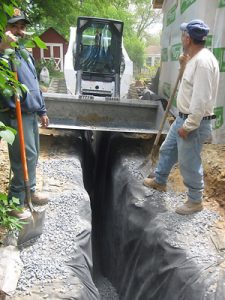 If you discover standing water, wet or damp areas in your yard, or soil erosion, it is generally a symptom of poor yard drainage. Exterior Waterproofing Experts located in Clifton, Virginia, can help keep water away from your home using a variety of yard drainage management solutions.
In Fairfax and Vienna, Virginia wet yards are commonplace and can be controlled by the installation of French drains, grading or swales to redirect water away around your home or yard. If your basement foundation wall is compromised by water from poor grading or yard drainage, it can be corrected by waterproofing the foundation, installing a liner system, re-grading, extending down spouts and installing or correcting foundation drains.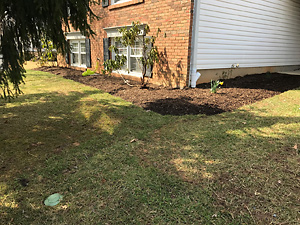 Exterior Waterproofing Experts in Northern Virginia can eliminate soil erosion and standing water by installing swales, re-grading, installing French drains or re-landscaping to manage water around your home. Sometimes simply strategically grading the yard is all it takes to control yard water issues.
French and Trench Drain Installation
Catch Basin, Channel Drain and Downspout Extentions
Installation of Sod, Plants and Seed
Drainage Swales, Berms, Grading and Slope Stabilization
Rain Tanks and Dry Wells
Exterior Sump Pump Systems
If you need help with yard drainage management and erosion control in Virginia, Maryland and DC, call Exterior Waterproofing Experts today.