Call Exterior Waterproofing Experts for Soil and Erosion Control Solutions in Arlington, Springfield and Alexandria, VA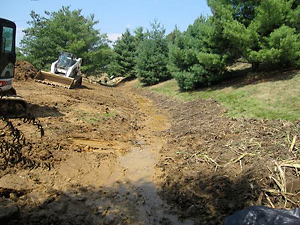 Exterior Waterproofing Experts in Northern Virginia has years of experience solving erosion and drainage problems that can affect and damage your home and property.
Erosion controls make use of natural barriers such as vegetation and rock to absorb and redirect water to eliminate erosion and sediment surface runoff. Our professionals will meet with you, assess the issue, determine the best course of action and implement an erosion control solution.
Whether you need grading, seeding or sod installation, culverts, slope stabilization, or rain gardens, the professionals at Exterior Waterproofing Experts will work with you to put an end to your drainage and soil erosion issues. We specialize in landscaping, drainage management, sediment control and stream bed repair.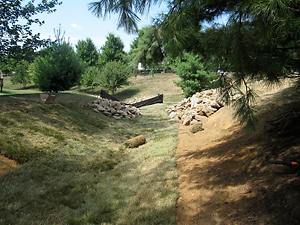 Exterior Waterproofing Experts – Erosion control strategies for your property:
Re-grading
Installation of Sod, Seed and Other Ground Coverings
Culvert Stabilization
Slope Stabilization
Steam Bed Repairs
Rain Gardens
Need help with erosion control in Northern Virginia, Maryland and Washington DC? Call Exterior Waterproofing Experts today.